Worksafe BC and SPRAT and IRATA Extensions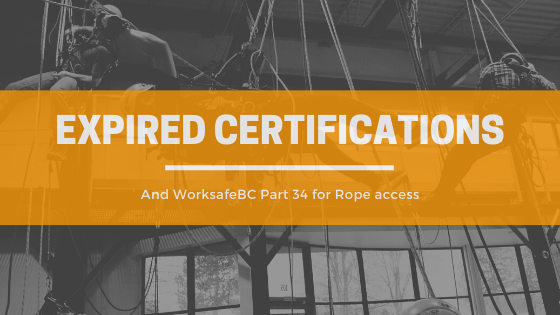 Mid-March, both SPRAT and IRATA issued out statements on what they would do with expired certifications during the COVID-19 pandemic. We summarized these statements on our COVID Update blog but please check their direct websites for any updates!
While many of you have reached out to ask what SPRAT and IRATA would do about your expired certificates, we also need to consider what WorksafeBC has to say, considering there is some rope access work still happening in the lower mainland.
I reached out to WorksafeBC to clarify if they would honor the IRATA and SPRAT certification extensions. A WorksafeBC rep called me back and said they would honor current IRATA and SPRAT's extensions. However, if required on site, the technician would have to demonstrate to the WorksafeBC Officer proof of an extension.
For IRATA expired certificates, you would of applied for an extension directly with IRATA. Although you won't be getting a new ID card to prove your new due date, you can prove your extension by using the IRATA Technician Check tool below.
https://irata.org/verify
You need your surname and IRATA number to use this tool. Make sure it's bookmarked on your phone for easy access.
For SPRAT, they aren't issuing individual extension dates. However, they have their current response posted on their website here:
https://sprat.org/news/sprat-response-to-covid-19/
Please make sure you bookmark this link as well. If you have any questions for SPRAT, please contact the BC SPRAT Ambassador, Martin Denisov at Martin@sprat.org.
Remember your safety measures!
If you're one of the lucky ones that are still working during this time, remember to continue to keep up with all other safety measures when it comes to rope access work.
We will be releasing training videos and lessons once a week to help everyone stay refreshed on their skills. Make sure you are following us on instagram, facebook, twitter, and Linkedin for updates!