Gear Review: The Petzl Grillon
The Petzl Grillon (pronounced Gri-Yon, soft N, very French). The legend? The Icon? Well, if anything, a very loyal friend. The Grillon has probably at one point or another been a part of most rope techs arsenal and for good reason: It's one kick-ass lanyard device and Petzl nailed its functional design (Are we surprised? No). As a work positioning device, it dominates as a piece of kit for a variety of techs especially tower climbers, industrial heads who need to do up close technical work, and last but not least, the arborists out there. Although we are sure many of you techs are up on your facts about the Grillon, we thought we would work with our pals at Rope and Rescue in Colorado to come up with a solid list of uses (some particularly creative) for the Grillon just in case you missed a detail! Have a read and share your own special uses with us! But first…
The Facts That Matter:
The Grillon from Petzl is a compact positioning lanyard that features a mechanical adjustment system with a pivoting cam for quick, easy adjustments.
The Grillon is easy to take on and off the line and fits ropes 11 to 13 mm. The lanyard is constructed of nylon semi-static rope.
Can be used in two ways:
- in double mode on the side attachment points of the harness, to distribute the weight on the belt (user has weight on his feet): length is adjusted by pressing on the pivoting cam)
- in single mode on the harness ventral attachment point, to distribute weight between the waistbelt and the leg loops (user is suspended): length is adjusted by operating the handle while holding the free end of the lanyard
Removable protective sheath protects the rope from abrasive surfaces and allows smooth rope glide.
The protection can be removed when the lanyard is used in single mode, to bring the user closer to the anchor.
Available in four lengths: 2, 3, 4 and 5 m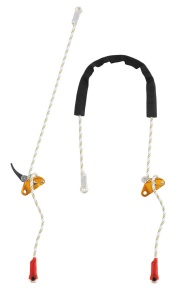 Epic Uses List:
So, what do our own peeps have to say about the Grillon?? For some really great use suggestions we went to Tim Zagiel (long time Rope Access tech and Founder/Director of Pacific Ropes, British Columbia), Jacob Wallace (Vice President of Rope and Rescue, Colorado), and I added a couple of my own suggestions for good measure. Without further ado, take it away guys!
- Using Side Ds
- Connecting to spreader hook
Horizontal Lifeline
Progress Capture in Short Haul
During major holidays this thing will help get your butt up off the chair after an epic turkey dinner
Pick Off Strap in rescue
Anchor this to your desk on a Friday … it's a great reminder that you ain't going nowhere until 5:00!
Suspension Trauma Strap
Use as a fall restraint line when working near an edge
Awesome device to attach to your teenagers during "the talk"… anchor this properly and there's no way they are escaping the awkwardness of this conversation.
Fall Restraint Device
Load Release Strap
Awesome to pack on vacation to use as a hammock anchor
Short Descent/Ascent
Work positioning device for tower climbers (the device wraps around the structural steel work and connect on both work positioning D-rings on the harness)
Awesome dog leash
Use when aid climbing point to point, two Grillons and a third point (for lazy/smart rope techs)
Use as a positioning device in conjunction with a backup line when traversing a horizontal tension line system
Pack it in your pocket when going to the club… it can work wonders on the dance floor when you want to dance with that girl/guy you've been checking-out all night. Slow dance positioning device? Mistletoe lockdown? I mean, just use your imagination!
Well, that about covers it!! Do you have anything to add?
Thanks to Jacob Wallace and my partner in crime, Amy Lavin, from Rope and Rescue for their contribution to this list! Be sure to check them out at: http://www.ropeandrescue.com/
Again, as with all of our gear reviews, it is recommended that you ALWAYS speak with a gear specialists when purchasing a new piece of kit to understand its correct use and place in your kit, and if necessary, visit a training facility to have an instructor show you the precise way in which to use this device on site with absolute correctness to ensure the safety of you and your team
From all of us at Pacific Ropes and on behalf of the Rope and Rescue crew,
Stay safe out there and we'll see you on the ropes!!!